Propose and organize your own local commons-related event
under the unified banner of World Commons Week during the week of October 6-12, 2019! And let us know so we can map your event on this website by completing this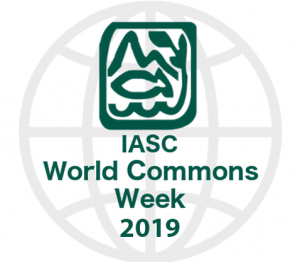 Calling all commons scholars, practitioners and interested parties!
Join in a week of globally distributed, locally organized events
on commons research and practice!
Propose and organize your own
local commons-related event
under the unified banner of
World Commons Week (WCW), October 6-12, 2019!
(https://wcw2019.iasc-commons.org/)
We welcome events varying widely in topic and purpose, and driven by individual organizer interests and contexts. These local events can range from simple, small gatherings led by a speaker on commons research or practice, to multi-day events like a commons-related workshop. Consider organizing something that is relevant to you and your community!
A few examples from last year's (WCW 2018) local events during the week include:
Brazil. "The Brazil's Commons Seminar: the Faxinal Tradition." A seminar on common pool resource governance, held at Unicentro – Campus Irati, PR, Brazil, organized by Carlos A.M. Gonzaga. The schedule includes a lecture, scientific papers presentations and a roundtable.
Germany. "Urban Commons: Revitalizing the Urban Common Space through Arts and Collaboration". An excursion organized by Ilkhom Soliev at the Martin-Luther-Universität Halle-Wittenberg, Germany and guided by Phillipp Kienast to view a collection of more than 70 urban art modern wall paintings done by local and international artists and complimented with discussions on the meaning of the term "commons" and discussions on how commoning can revitalize urban life.
The Netherlands. "Experiencing the Politics of Nature: Managing Excess Rainfall", organized by Socrates Schouten, Amsterdam, The Netherlands. This event marks the launch of the Chamber of Commons. The mission of the Chamber of Commons is to raise public awareness on the commons, tickle the senses, and demonstrate new models through which commons can address societal questions. This includes cross-boundary experiments such as Politics of Nature.
South Korea. "Agendas for a Sustainable Society: the Commons", organized by Choi Hyun and Paik Young-Gyong, Jeju National University, South Korea. This group held a set of events each day of WCW 2018, which included activities including: a movie screening and discussion on women, citizenship and the commons; a field trip to discuss climate change and natural resource commons; a day-long conference on public water supplies.
Albania. "Promoting the Commons in South East Europe", organized by Klodjan Rama, Agriculture University of Tirana, Albania. Rama ran a local event in their local agriculture fair and held a public discussion on topics related to commons and sustainable management of natural resources.
USA. "The River as Commons: Working to Keep a Hard Working River Flowing. A multi-day workshop, organized by Anne Mackinnon and others, featuring presentations on case studies from around the Colorado River Basin and in-the-field experiences to encourage knowledge sharing and trust building among people working in many places in the basin to foster a more sustainable river.
To record your local event to our WCW 2019 local event map, visit:
https://forms.gle/tWnzrXjZmdJn7A687 or email cschweik@umass.edu